---
Boat jam in the Suez Canal
---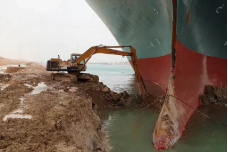 The super-large freighter "Changci" of Taiwan Evergreen Shipping stuck in the Suez Canal in Egypt. Can't move. More than 160 ships in the canal were forced to wait in line. Caused one of the worst shipping congestions in years. The "crash" caused the suspension of two-way shipping on the Suez Canal, and daily shipping worth about US$9.6 billion was also blocked.
Outside the Suez Canal, the "ship jam" incident also flapped the wings of butterflies, affecting the supply of oil, natural gas, and copper in the global market. "It can be said that the blockage of the Suez Canal disrupted the pace of global liner operations. It is estimated that the blockage caused by the grounding of the ship will last for 10-14 days, which will have a significant impact on global maritime trade.
latest news. The bow was damaged and the river poured into two cabins. A high-power pump has been used to pump water out of the cabin, and the hull is currently in a stable condition.
undefined
Copyright © 2022 SHAOXING DONGCHEN SAFETY CO.,LTD